4 August, 2020
Pondicherry
Posted in :
Travel
on
by :
Simmi Iyer
Street Food In Pondicherry: Snacks
1) Samosas near South Boulevard
Mutton Samosas 
Though this crispy fried treat is usually vegetarian all over the country, the mutton samosa holds a higher place on the podium that the potato variety in Pondicherry. For what most in the city consider the perfect snack, we have the perfect place to get it; near South Boulevard, opposite the railway station.
Here you will find many roadside food vendors but locating your man will be no problem as there's a long line for these meaty morsels around his cart and no other.

2) Pani Puri on Lal Bahadur Shastri Street
Pani Puri
With so many communities enjoying their own version of the famous Pani Puri all over the country, it is no wonder that Pondicherry too has its type of chaat. Along the bustling Lal Bahadur Shastri Street in Pondicherry, you can find more than a couple of street carts dispensing hundreds upon hundreds of these crispy puris filled with various veg fillings and tangy chilled water.
There are scores of patrons popping them into their mouths as if in competition; head here if you too want to participate.

3) Bondas on Mission Street
Bondas 
As is with chaat and samosas, Pondicherry also has its own claim to fame when it comes down to pakoras. Spicy vegetarian fillings, coated in a chickpea flour batter and deep fried, served with sweet and spicy chutneys, nothing is better when you're in a mood for a quick hot snack on the go.
A unique variety sold along Mission Street is the mushroom bonda. For a Pondi twist to this already dangerously delicious snack you must head here; you will not be disappointed.
4) Masala Puri on Lenin Street
Masala Puri 
Another awesome chaat style Pondicherry favourite has got to be the masala puri. Lentils and chickpeas, cooked in a spicy gravy, served piping hot along with crispy puris is a perfect way to kick start your morning.
On Lenin Street, bang opposite Hotel Udippi, you can find what many call the best masala puri in the entire city. Made to perfection and with customizable degrees of spice, a word of caution to start low and work your way up the Scoville scale.

5) Sandwiches at Dhool
Vegetable Sandwiches are a big hit in Dhool
With anything and everything being served between bread, a sandwich has no limitations. Along the beach road, a little sandwich stand called Dhool, is famous for its bready treats.
This place serves mostly desi styles but there are also a few specials for the adventurous. Open every day till late, the stall is always packed with customers so be prepared to wait.
6) Mutton Rolls on Mission Street
Mutton Rolls
These spicy non-veg rolls are commonplace at many street corners all over the city and are the snack of choice for any meat eater in Pondicherry.
Tender slivers of spiced mutton, stir-fried and rolled into a hot paratha is a feast for the senses. Down Mission Street you will find one such roadside vendor. On the menu are cutlets and a few other dishes too, though he seems to be only getting orders for mutton rolls which is evidence of the treat you're in for.
7) Crab Masala Fry on Rangapillai Road
Enjoy Crab Masala Fry
Pondicherry has a large fish-eating community and some of the best treats to eat here are seafood delights. Crab masala fry is one such dish and we have just the place for you to get it quick, easy, cheap and absolutely delicious.
The little cart just opposite Nilgiris on Rangapillai road is known all over Pondicherry for its seafood. Fish fry, stuffed squid, prawn masala and many more are all excellent, but the crab fry has got to be number one.
8) Khowsuey on Mission Street
Khowsuey is popular in Pondy
A popular Burmese dish, Khowsuey or Kaukswe, is a coconut-based vegetarian, non-vegetarian or prawn curry, served on noodles or with rice, and garnished with everything from fresh herbs to crispy noodles.
A meal in itself, you can sample this delightful medley of flavors at a small street kiosk right opposite Café Xtasi on Mission Street. The little street cart has been dishing out bowls of this Pondicherry favorite for a few years now and is one of the more easily accessible places to get it rather than at a fancy restaurant.
9) Parotas at Hotel Rolex
Enjoy Parotas with curry
The tawa Parotas in Pondicherry are famous and one of those snacks you can find just about anywhere you go. Opposite the Ratna Cinema, a tiny shop by the road called Hotel Rolex has some of the tastiest the city has to offer.
Served along with non-veg delicacies like boti fry, pepper chicken fry, bheja masala and the like, the parotas served here are delectable on their own too. Operating post 9 pm and up to well past midnight, this joint is great after a night out..
10) Dosa at Annapoorna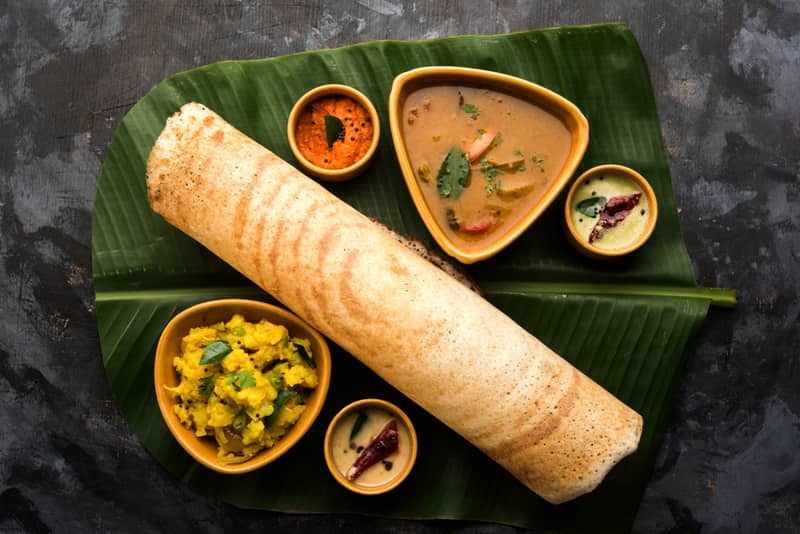 Dosa
It's little wonder that Pondicherry eats a lot of Udupi cuisine and being a staple in the region you can bet it's good no matter which restaurant you visit.
If you are looking for some great South Indian food on the go then Annapoorna, right opposite the JIPMER Campus, is the place. Fantastic dosa, fresh idlis and a cup of filter coffee is all you can get at this hole-in-the-wall outlet, but the multitude of combinations and permutations of dosas itself is mind boggling.